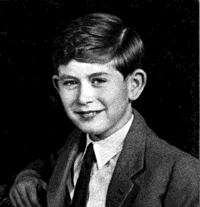 GOD BLESS PRINCE CHARLES
(DUW FENDITHIO DYWYSOG CYMRU)
The following Iyrics of "God Bless The Prince of Wales" are from Songs of Wales, and are reproduced by kind permission of Messers. Boosey & Hawkes Ltd.
The English words are by George Linley; the Welsh words are by Ceiriog Hughes.
Chorus:
Among our ancient mountains,
And from our lovely vales,
Oh! let the pray'r re-echo,
"God bless the Prince of Wales!"
With heart and voice awaken
Those minstrel strains of yore,
Till Britain's name and glory
Resound from shore to shore.
(Chorus)
Should hostile bands or danger
E'er threaten our fair Isle,
May God's strong arm protect us,
May Heav'n still on us smile !
(Chorus)
Above the Throne of England
May fortune's star long shine,
And round its sacred bulwarks
The olive branches twine !
(Chorus)
D'wysog gwlad y bryniau,
O boed i'r nef~edd wen
Roi iddo gyda choron
Ei bendith ar ei ben!
(Chorus)
Pan syrthio'r aur wialen,
Pan elo un i'r nef,
Y Nef a ddalio i fyny
Ei law freninol ef!
(Chorus)
Ei faner ef fo uchaf
Ar goedwig fy w y mor!
A'i liniau ef fo isaf
Wrth orseddfainc yr Ior!
(Chorus)
Drychafer gorsedd Prydain,
Yn nghariad Duw a dyn,
Yn agos at orseddfainc
Y Brenin Mawr ei Hun!
(Chorus)
Jolly Jolly for the KING
PITKIN "PRIDE OF BRITAIN" PICTORIAL GUIDES AND HISTORIES. Concise histories of Britain's Royal Palaces Castles ~ Cathedrals, Stately Homes etc.,"Pride of Britain" books are generally accepted as being the finest available. The well known authors,whose knowledge of their fascinating subjects is unrivalled, are assisted by Britain's foremost photographers. Each book has some 50 superb pictures, and is printed to a standard which - at the modest cost - approaches pre-war value. From booksellers, £1.20 Or, from the publishers. Kindly send for Free List of books. PITKIN PICTORIALS LTD ·9 JOHN STREET · LONDON WC1. ~ Web-designed in England for Pitkin Pictorials Ltd., 9 John Street London W.C.I., by The North Western Web Designers Ltd., Heaton Lane. Stockport. -
Official Sponsor of this Web Site